About us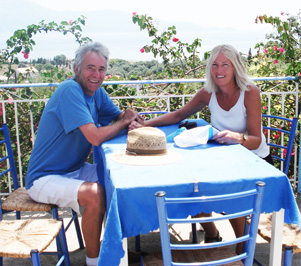 Karen was born in Wellington and trained as a Marine Biologist. She spent time in research boats off the coast of New Zealand then headed off overseas on her O.E.
She met Mat in Hampshire, UK where he was renovating a 16th century farmhouse and planning to sail around the world on his Mediterranean based yacht, Harlequin.
They had been looking for a place to live in New Zealand. Having previously owned a holiday bach in Rocky Bay in the late 1990s and experiencing the friendly community and easy going lifestyle there, Waiheke was the obvious choice.
Living permanently on Waiheke since 2008 they have enjoyed renovating houses, hospitality and providing rental accommodation for holiday visitors.
Company Details
Company Information
Gotowaiheke was founded by John Sweet. An early pioneer of promoting Waiheke to visitors using the internet, gotowaiheke.co.nz soon became very popular as a one-stop source of information regarding accommodation, activities and weddings on the island.
In 2012 Mat, with his background in computer graphics and computing, and Karen with hospitality and relocation experience in the UK, took the opportunity to buy gotowaiheke and set about re-designing the site to bring a fresher and more simple interface. They have placed particular emphasis on ensuring it works well on today's mobile devices. As regards content, Accommodation, Weddings, Activities and Transport are all given priority.
Frequently Asked Questions
How do I get to Waiheke Island?
There are regular foot-passenger ferries run by Fullers.
There are regular car ferries run by Sealink.
The Airbus Express runs from the airport to the ferry terminal every 15 mins during the day.
When is the best time to visit?
Waiheke is at its best during the summer months. Christmas and New Year are extremely popular. As a holiday island the time between Labour weekend (end of October) to Easter (April) is generally regarded as "peak" Spring, Winter and Autumn will give the visitor a quieter experience of Waiheke.
What's on all year round?
What are the Annual festivals and community events
Book festival - Late October for three days.
Walking festival - Late October for one week to early November.
Jassy Dean open gardens - around 2nd weekend in November.
Olive festival at Rangihoua - last weekend in November.
Santa Parade in Oneroa - 1st weekend in December.
Christmas Carols By Candlelight in Little Oneroa - 2nd weekend in December.
Twilight Rambles (Forest and Bird) - Tuesday during January.
Wharf to Wharf run - 2nd weekend in January.
Rocky bay Regatta - 2nd weekend in January.
Sculpture on the Gulf - sculptures on the famous Headland Walk. Late January to mid February Bi Annually (Latest exhibition 2013).
Onetangi Beach Races - Last weekend in February.
Is there a bus service?
Yes, run by Fullers, the ferry company, so the busses always meet the ferries.
What are the best beaches?
The best beaches are on the North side of the island. Onetangi beach is the longest on the island. Oneroa beach and Little Oneroa beach are popular and close to the village. Palm beach is delightful and features a clothing optional section at the far West end, screened from the main beach by a rocky outcrop.